With Elretur's members' certificate, our members can highlight their Elretur membership.
The certificate documents that Elretur handles the company's producer responsibility obligations, collecting WEEE and/or batteries on their behalf.At the same time, the certificate shows that the company has undertaken to report data to the authorities, required under the extended producer responsibility.
In other words, the certificate shows that the company takes responsibility for their products when they reach end-of-life. Through their membership, the company contributes to more and better recycling and reuse of electronics and battery waste.
For example, the certificate can be displayed on the company's website, letterhead and email signature. The certificate is not a label.
It is important for Elretur to emphasise that companies can live up to their producer responsibility by being individually registered in the Danish Environmental Protection Agency's register of producer responsibility (DPA-System) or by being registered through another producer organisation. These companies will not necessarily have a certificate as there is currently no industry-wide certificate. However, it is possible for consumers to check whether a company is registered as a producer on the webpage of DPA-System.
If a company abuses the certificate, e.g. by using a description of the certificate's meaning that is not true, Elretur may revoke the company's right to use the certificate.
Batteries
The certificate with a battery also reveals that the company is a member of Elretur's battery section, and is charged excise duties by the Danish Customs and Tax Administration (SKAT) for the batteries they place on the market.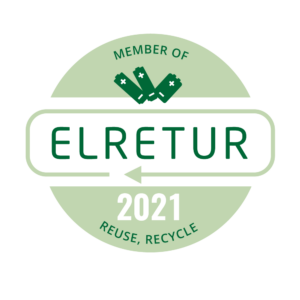 Elektronics
The certificate with a socket also reveals that the company is a member of one or more of Elretur's WEEE sections.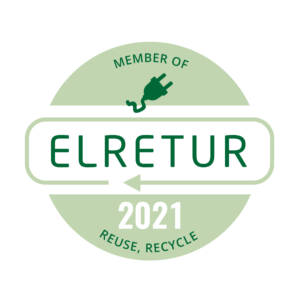 The year indicates the year in which the certificate was issued. The certificate is issued in January. In special cases, however, Elretur also allows member companies to use a certificate without a specific year. This applies to cases where the certificate will be printed on a given material, so that the material with the certificate will not become obsolete. Companies are obliged to stop using the certificate if they opt out of Elretur.
PDF-certificate
In addition to the environmental certificates, Elretur issues a PDF certificate to its members once a year. The certificate shows that the company has reported the necessary information about quantities of products marketed in the previous years and/or expected quantities marketed in the year in question. In addition, this shows that the company is registered in the Danish Producer Responsibility System until 31 March the following year, and has paid their environmental fee and any applicable taxes.