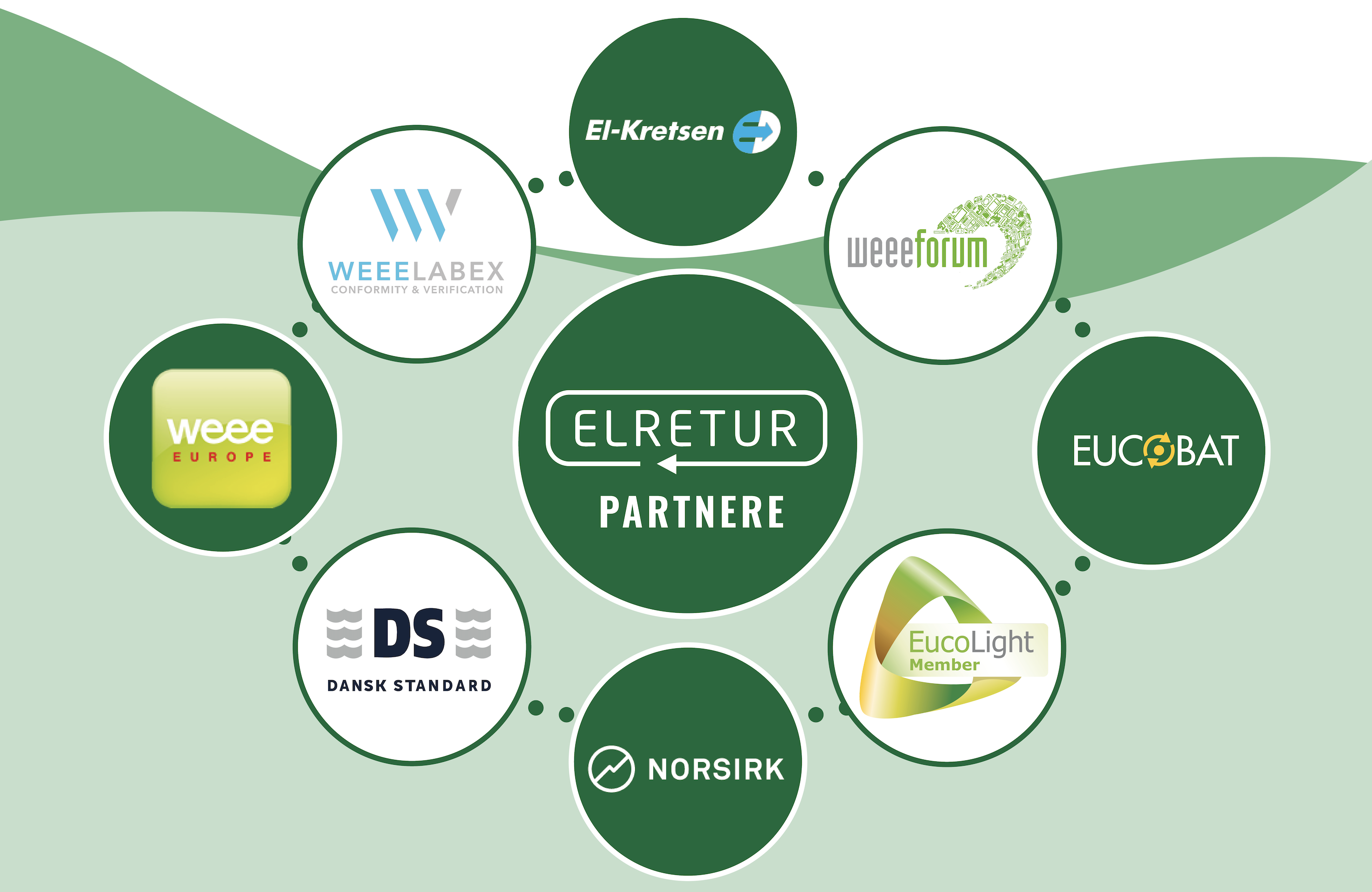 weee Europe
Companies selling their products in other EU countries can ask weee Europe to help them ensure that their producer liability is complied with throughout the EU and Norway, Switzerland and UK.
As a member of Elretur you can use weee Europe and only have two contact points, one at Elretur and one at weee Europe, instead of up to 30.
Read more at https://www.weee-europe.com/.
WEEELABEX
WEEELABEX is an international non-profit organisation behind the WEEELABEX certification scheme. WEEELABEX is a set of standards relating to quality in processing electronic waste, such as that used in computers.
The WEEELABEX certification also encompasses companies who destroy data and/or parties who purchase used computers for resale. This is a statutory standard that all processors and producers have had to comply with since 1 July 2015.
WEEELABEX is a set of harmonised standards governing collection, storage, transport, pre-processing, reuse and recycling of electronic waste. Collective schemes, such as Elretur, require their processors to be certified according to either the WEEELABEX or SGS standards.
Read more at https://www.weeelabex.org/.
Weee Forum
WEEE Forum is the world's largest multi-national competence centre in terms of know-how regarding the management of electrical and electronic waste. It is a non-profit association of 44 WEEE producer responsibility organisations worldwide.
Through the exchange of best practices, WEEE Forum helps its members improve their activities related to the circular economy.
Also see https://weee-forum.org/.
EUCOBAT
Elretur is a non-profit organisation that strives for a better environment by collecting an ever-increasing number of spent batteries and by recycling them even better.
Eucobat members ensure that spent batteries are collected and recycled as easily and efficiently as possible. Members encourage sustainable use, collection and recycling of batteries through appropriate and clear communication.
Read more at https://www.eucobat.eu/.
EucoLight
EucoLight is a European association focusing on electronic waste (WEEE) from light sources, including energy-saving lamps and fluorescent lamps. Members include European collection and recycling organisations.
Unlike most other electronic waste, there is no value in the waste from light sources. Most light sources are also fragile and contain hazardous substances, making them difficult to transport and requiring specialised recycling facilities.
EucoLight was established to respond positively to these challenges and to collaborate with European bodies and industry associations. EucoLight works to improve the regulatory framework for lamps waste. This includes ensuring equal conditions for all, supporting the development of ​relevant international standards, in addition to offering guidance and support to its members. All within the framework of ambitious collection goals.
Read more at https://www.eucolight.org/.
Danish Standard
Elretur participates in the Danish Standards Committee for Environment and Circular Economy, which prepares standards and guides with environmental aspects in the electrotechnical field, including requirements for labelling, declaration and measurement of content of substances regulated by legislation, as well as recyclability after the product has served its use.
Among the issues the Committee works with are the development of standards for circular economy as an extension of the Ecodesign Directive. This includes the drafting of European standards, which shall:
Extend product life
Facilitate reuse of components or recycling materials from end-of-life products
Use these components or materials in new products.
Elretur participates to be at the forefront of development and to ensure that we have good standards that are also useful in practice.
Read more at https://www.ds.dk/da.
NORSIRK
NORSIRK AS is the Norwegian equivalent of Elretur. NORSIRK is a nationwide producer responsibility company for electrical and electronic products, batteries and packaging. NORSIRK ensures the safe and environmentally friendly collection, transport, treatment and recycling of waste on behalf of its customers. Together with Elretur, NORSIRK is a member of the WEEE Forum and WEEE-Europe.  
See more at https://norsirk.no/weeerepnorway/.
El-Kretsen
El-Kretsen is our Swedish sister company and handles producer responsibility for WEEE (electronic waste) and batteries in Sweden. El-Kretsen's system is designed to ensure environmental friendly handling and is run together with all the municipals of Sweden. El-Kretsen only work with certified recycling undertakings and in accordance with Swedish environmental regulations. Like Elretur, El-Kretsen is a member of the WEEE Forum and WEEE-Europe.  
See more at https://www.el-kretsen.se/english/.