Are you subject to the extended producer responsibility for electronics? Find out here, and see what it means for your company, and not least how Elretur can help you live up to your producer responsibility obligations.
Who does it affect?
The extended producer responsibility rests with anyone who sells scoped products (EEE and BAT) in Denmark. Producer responsibility thus lies with both companies that produce and sell their goods in Denmark, as well as companies that import goods from abroad and sell them in Denmark. This also applies to foreign companies that sell products directly to Danish consumers. Companies that buy electrical and electronic products produced by another company and resell these products under their own brand have producer responsibility for the products in question (Original Equipment Manufacturer/OEM products). This also applies if the manufacturer of the original products is a Danish company.
Which products are covered?
The Electronic Waste Executive Order defines scoped products as:
Equipment that requires electrical current or electromagnetic fields
Equipment used for the production, transmission and measurement of electrical currents and electromagnetic fields.
There is no exhaustive list of covered products, but examples include white goods, computers, televisions, hair dryers and solar cells.
Obligations arising from the extended producer responsibility
Producer responsibility entails a large number of obligations for the manufacturers/importers of the covered products. Please note that if your products contain batteries, the batteries are covered by the extended producer responsibility for batteries. Read more about the extended producer responsibility for batteries here. Duty to register and report The extended producer responsibility entails a duty to register with the Danish Environmental Protection Agency's producer register (DPA-System), which is publicly available. You must register no later than 14 days before you begin selling the products. In addition, every year, the company must report information such as how many kilos of products have been sold, how many kilos of end-of-life products have been collected, etc. Elretur handles this reporting obligation for its members. It is a criminal offence to buy covered products from a non-registered manufacturer, and to sell them without being registered in the producer register. Collection and disposal obligation All manufacturers are responsible for handling and disposing of their end-of-life products in an environmentally responsible manner. If the products end up in households, the companies have an obligation to collect and process electronic waste from the recycling centres in Denmark. Manufacturers/importers must service specific recycling centres, which the Danish Environmental Protection Agency allocates to them once a year. As it is an impossible task for the individual companies to deal with the collection and processing of end-of-life products themselves, many choose to let a producer organisation such as Elretur handle it for them. If instead the products end their days in a commercial company, the companies also have an obligation to dispose of the end-of-life equipment and ensure that it is properly reprocessed. Of course, Elretur assists its member companies with this task – either by referring to a reprocessing site or by collecting on site, depending on quantities. Elretur can also provide collection equipment. Duty to provide information In order to prevent end-users from disposing of the electrical and electronic waste as household waste, manufacturers/importers must provide information about proper disposal in the sales and information materials, including instructions for use. The Danish Environmental Protection Agency has prepared the following standard text that can be used: "Electrical and electronic equipment (EEE) contains materials, components and substances that can be dangerous and harmful to human health and the environment when the waste of electrical and electronic equipment (WEEE) is not disposed of correctly. Products marked with the "crossed-out wheelie bin" below are electrical and electronic equipment. The crossed-out wheelie bin symbolises that waste of electrical and electronic equipment cannot be disposed of with unsorted household waste, but must be collected separately. All municipalities have therefore established collection schemes where waste of electrical and electronic equipment can be handed in free of charge by citizens at recycling centres, other collection points, or collected directly from households. Further information should be obtained from the municipality's technical administration." In addition, the products must be marked with the following pictogram (standard DS/EN 50419.):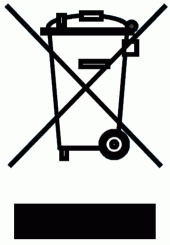 Electronics produced after the extended producer responsibility entered into force (August 2005) must be marked with the black bar or with the date on which the equipment was placed on the market. If the size or function of the products precludes the product from being marked with the pictogram, it must be printed on the product packaging, warranty certificate or in the instructions for use.
Transfer of disposal responsibility to the next stage of sale
If the covered products are marketed for companies, the manufacturer/importer may enter into an agreement with a company at another sales stage that the latter will take over the disposal responsibility. The agreement on the transfer of disposal responsibility must be in writing, and the company must send a copy of the agreement to the Danish Environmental Protection Agency's producer register (DPA-System) each year. If companies market products to households, it is illegal to transfer the disposal responsibility to the next stage of sale.